Cuisine
We offer delicious foods that are caught by our fishing boat Banseimaru.
We offer delicious foods that are caught by our fishing boat Banseimaru. Depends on the price and stay plan, meals may vary. If you have something you can't eat, please let us know when you reserve.
Oga Specialty "Ishiyaki Cuisine"
In the olden day, fisherman cooked their soup broth meals by putting in red-hot rocks in to hollow rocky areas of stone along the seashore, instead of the wooden bucket we commonly see today. It is said, that this is the origin of the Ishiyaki style cuisine. Nowadays, the way we cook this dish has been modified for enjoyment in restaurants and hotels.
The way of cooking looks like very dynamic and to put the red-hot rock into the bowl is good for enclosing the flavor and the taste of the seafood. Immediately you can see and hear the effects of the stone in the broth. Please enjoy this exciting dish with your eyes, ears and mouth!
Depending on the season, ingredients will be different.
The amount of Ishiyaki cuisine is about 2 cups of soup with seafood and vegetables.
This meal is an additional charge. For 2 people 5,500 yen(tax not included) / for parties of 3 or more the price is 2,000 yen per person (tax not included)
We offer staying a plan with Ishiyaki cuisine included.
The Ishiyaki cuisine is limited in what we could offer. There is a possibility we can not offer it to you.
Additional charge for the meal
This price doesn't included tax. Your food may differ from the photo. If you have any requests please feel free to ask.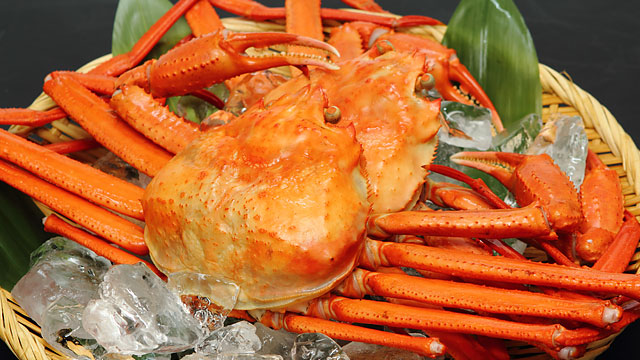 Beni-zuwai crab of the sea of Oga
2,000 yen / 1 crab
The Beni-zuwai crab that are caught in sea of Oga are fresh, juicy, and sweet. The south of Oga's district Funakawa is where most Beni-zuwai crab in the Tohoku region are caught.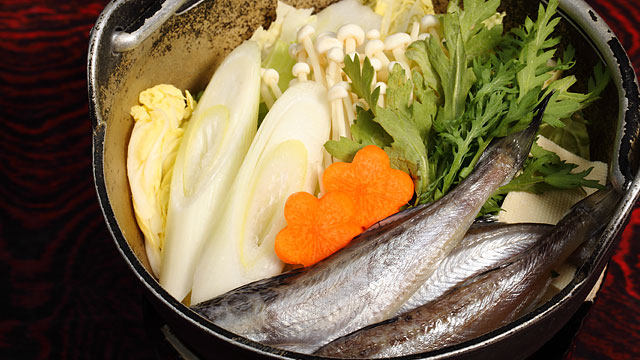 Syotturu nabe
1,800 yen per 1 person (2 person minimum)
Syotturu (fish sauce) is an amber-coloured liquid extracted from fermentation of the Hatahata fish with sea salt. It is designated as a cultural heritage food. Syotturu nabe is a dish cooked in a pot at the table and traditional local food of Oga. We will offer this Syotturu nabe with seasonal fresh seafood not only Hatahata fish.
Assorted Sashimi (raw fish)
2,200 yen per 1 person(2 person minimum)
Depending on the season and weather, fish may be different. If you have a request please let us know when you reserve.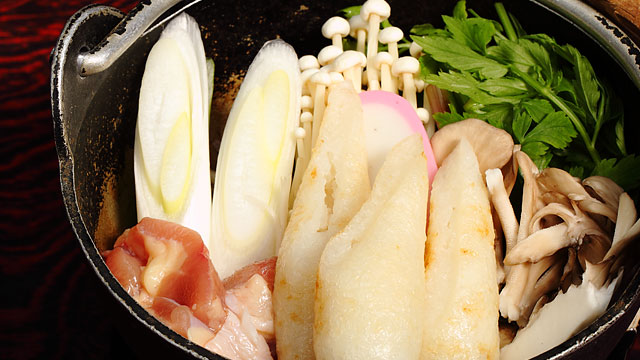 Kiritanpo nabe
1,800 yen per 1 person(2 person minimum)
This is a Akita prefectural traditional food. Freshly cooked rice is pounded until somewhat mashed, then formed into cylinders around Japanese cedar skewers, and then toasted over an open hearth. It tastes delicious with free range Hinai-jidori chicken, vegetable, and mushrooms.
For the local people, Kiritanpo nabe is one of autumn joy because in autumn we harvest the rice.